Buying a new mattress is not such an easy task as it seems. As it is well-known, a human spends a third of life in bed. It's a lot. That is why if you have decided to buy a new mattress, choose it carefully. The exact size is the first step that will help you to avoid different troubles in buying a suitable mattress. The mattress should fit your needs and the room space, where it will be placed. Take into consideration your personal preferences in order to choose the right mattress dimension that will provide you with a comfortable sleep and rest. Moreover, if you want to replace your old mattress with the new one, be sure that the measurements of an existing bed and the new mattress are the same (in order to prevent undesirable overhangs).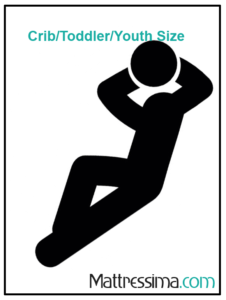 Toddler, Kids and Youth
The main requirement for your child's bed is sufficient firmness and comfort. Many parents mistakenly think that the softer mattress and pillow tops are the better for their baby. In fact, the best option for sleeping children is the hard surface that lets them have the full range of motion. While choosing a mattress for your little baby, first pay attention to its solidity and reliability.
Twin/Single Mattresses
The dimensions of twin mattresses also called as single ones are 38 x 74 ½" or 96.5 x 189 cm. Almost all of our mattresses are free of this size. You may buy our best-selling mattresses all around the world.
Twin XL Mattresses
One of the most frequent mattress sizes is Twin XL which is a half of a king mattress. Because of its larger size (38 x 79 ½" or 96.5 x 202 cm), many well-known brands such as Tempur-Pedic also call it as Long Twin. Twin XL may be a better choice for those couples who sleep in adjustable bed as they may regulate own side of the bed independently of each another.
Double Size Mattresses
Length and width of double mattresses also called as full or standard size is 53 x 74 ½" or 134.5 x 189 cm. This mattress size is the least common one despite that fact that it is sold better than Twin XL mattresses.
Full Mattress Dimensions
Full or double mattresses measure 54 x 75″. It allows you to expand your sleeping space in comparison with a twin mattress. In order to have a comfortable sleeping only one person should sleep on a full-size mattress because two people will have a smaller area (27 inches) for each other as in crib mattresses.
Queen Size Mattresses
Queen mattresses size (60 x 79 ½" or 152.5 x 202 cm) is in great demand in the USA. You may find it in each mattress design of our product range. Queen box springs or foundations are made as the single whole. However, if you need to have double mattress box springs, you may order it.
California King Mattresses
In comparison with a standard king, California King Mattresses also called as a Western King, are narrower by width (72 inches or 183 cm), but its length is a little bit more (84 inches or 213 cm). It is wrong to believe their dimensions are less than king size. In fact, California King is 6,048 square inches, while King Mattress size is 6,080 square inches. The special characteristic of this mattress size is that California King box springs or foundations are divided into two parts.
King Size Mattresses
Nowadays King mattresses are as popular as queen mattresses. They are 76 inches (193 cm) in width and 79 ½ inches (202 cm) in length. You may come across King Size mattresses almost in all our mattress models. The most favored samples are available for you all the time. If you join two Twin XL mattresses, then you will get King Size. King box springs or foundations always consist of two parts.
Custom Sized Mattresses
Non-standard mattress size is a quite common ordering of our clients. If you are going to buy a custom sized mattress you should take into account that it can be of low or high cost but there are few middle prices models.
Full XL Size
The dimensions of the Full XL mattress are intended for the sleepers who prefer to have more foot room. The width of the Full XL mattress (54 inches) aligns with the width of Full-size models but its length has 6 inches of extra comfort. Among lovers of such mattress size are those who do not need the width of Queen size mattresses because they would like to be closer to their best half when sleeping or they like to stretch their legs comfortably and do not require a lot of space for the restful sleep.
Eastern King Size
Eastern King size is a true "King" among the widest mattresses models. It has the optimal length of 80 inches. And its width reaches 76 inches. It's the highest rate of the available mattresses width.
One of the most important aspects of a better night's sleep is ensuring you have enough room to fully relax and sleep. A common mistake in purchasing a bed is buying one that is too small. Before you start shopping, ask yourself if you are satisfied with the amount of sleep space in your current bed and review our mattress size charts below to ensure you purchase the right bed size.